This week we're going to go with a double dose of Up and Coming Films since last week didn't work out as I had planned. Mostly comedies this week, but some other new films coming out that don't have posters or trailers out yet.
Reign Over Me
ETA : Now
I had the chance to see this movie last weekend and was rather impressed with Don Cheadle and Adam Sandler. Sandler took another step in his acting career to try and prove he's not just Billy Madison or Happy Gilmore and can actually act. In this one, I think he does. Of course you still get his trademark yelling at his best. I give it 4 stars out of 5.
Find the trailer at the official site
here
.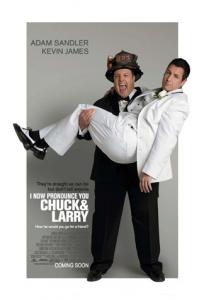 I Now Pronounce You Chuck and Larry
ETA : July 20th
Another Adam Sandler movie, but this one is more up his alley with Kevin James (King of Queens, Hitch). Two Brooklyn firefighters pretend to be gay to receive domestic partner status. Also stars Jessica Biel, Steve Buscemi, Ving Rhames and Dan Aykroyd
Check out the trailer
here
.
Evan Almighty
ETA : June 22nd
Steve Carell gets to take over for Jim Carrey and play in the sequal to "Bruce Almighty." Evan Baxter turned from a rival of Bruce to D.C. Congressman who has been asked by God to build another ark.
Looks good to me.
Check out the trailer
.
Rush Hour 3
ETA : August 10th
It doesn't get better than the complete mismatch of Chris Tucker and Jackie Chan. Back to do yet another comedy, only this time in France. I can only imagine.
Teaser is here
.
MORE :
License to Wed
ETA : July 6th
John Krasinski (The Office, The Holiday) is getting married to Mandy Moore (Saved!, A Walk to Remember) but she wants to get married in her family church. The only day available is with Reverend Frank (Robin Williams) who makes them jump through hoops to get his blessing to actually marry them.
I like all three of these people, so this is a must see for me.
Mama's Boy
ETA : June 29th
John Heder plays a 29 year old who still lives at his parents house which is his perfect dream. His mom (Diane Keaton) meets a motivational speaker who threatens that perfect existence.
To me, it sounds a lot like Failure to Launch, but more of a comedy.
Joe Claus
ETA : November 9th
A Christmas movie about Fred Claus (Vince Vaughn) who is Nicholas' older brother who instead of being the perfect saint (St. Nicholas) is a repo man and thief. Fred's dealings get him into jail. Against Mrs. Claus' wishes, Nicholas bails out his older brother only if he will work off his debt making toys at the North Pole.
I'm sure you could imagine what would happen next. I did.